"Friends?! Friends are for the weak!"
— Gary
This is only a brief summary. For more information, please visit the Gary Smith page at Bully Wiki.
Gary Smith is the main antagonist in Bully.
Character Summary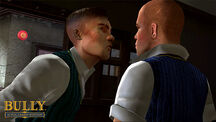 Gary is slightly taller and slimmer than
Jimmy
and has medium brown hair that is cut in a low fade style that is parted on the left, and brown eyes. He has a scar running down his right eye.
Gary is the only student who wears a teal Bullworth vest with lime green lining over a white collared shirt, along with a silver watch on his left wrist, gray slacks, and black loafers. On his right wrist, he wears a brown leather wristband.
On Halloween, he dresses as a Nazi SS Officer and carries a riding crop. In the winter, Gary rolls his sleeves down and wears a navy blue beanie with a black stripe.
He suffers from several different mental health problems, such as attention deficit disorder (ADD), megalomania, malignant narcissism, and sociopathy. When off his medication, he suffers from paranoia.
He stops taking his medication around Halloween, which also leads to his betraying Pete and Jimmy. He was previously a therapy patient of Dr. Bambillo.
Despite his mental health problems, he is very observant. He is also very manipulative and intelligent and is very arrogant and vain. He convinces all of the clique leaders to trust him over the course of the game.
Even when on his medication, he still has a mean personality. Because of it, he has no friends among the cliques and forms a group with fellow misfits Jimmy and Pete.
Gary cites his parents as one of his problems, and Miss Abby speaks poorly of Gary's mother. Mr. Smith is hinted to be Gary's grandfather. Donald mentions that Mr. Smith (either Gary's father or grandfather) was expelled from Bullworth, and went to prison.
Algie describes Gary as a sociopath, and Pinky claims he likes to torture people.
Quotes
Main article: Gary Smith/Quotes
Links