"You know what the worst part of being a Harrington is? Nothing! Hahahaha!"
— Derby
This is only a brief summary. For more information, please visit the Derby Harrington page at Bully Wiki.
Derby Harrington is the leader of the Preppies clique in Bully.
Character Summary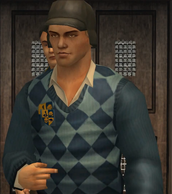 Derby is blond, has brown eyes, and has dark brown eyebrows. Like his fellow preps, he wears Aquaberry clothing. He wears an Aquaberry vest and gray slacks. In the winter, he wears an Aquaberry sweater, gray slacks, and a dark gray vintage hunter's cap. Like Bif, he doesn't wear a tie, like the rest of the preps.
Derby is arrogant, snobbish, manipulative, and generally unpleasant. He is described as being the WASPiest student at Bullworth and is apparently Republican. His name is pronounced 'Darby'.
He looks down upon anyone, including but not limited to his supposed friends. His family is very wealthy, at least partly from an oil business, Harrington Oil. His father, Mr. Harrington, is one of the largest benefactors of Bullworth Academy and spends a lot of time buttering up Dr. Crabblesnitch in order to obtain favorable treatment of the Preppies. Harrington House, the prep's fraternity house, was built from Mr. Harrington's donations.
Derby is related to Pinky Gauthier and was betrothed to her. However, she broke off the relationship after Derby was three minutes late to a date with her.
He can be seen on posters in the Aquaberry Outlet in Old Bullworth Vale.
Despite his impressive ability to manipulate, he has no interest in running the school, unlike Gary Smith.
According to Justin, Derby has claimed to be his best friend.
Quotes
Main article: Derby Harrington/Quotes
Links