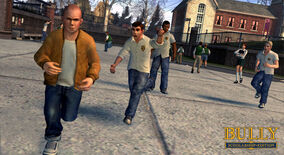 Articles found on canon characters from
Bully
are summaries which contain basic information to provide ideas and quick information to fanfiction writers. If you wish to see more in-depth articles, links to the Bully Wiki version of articles can be found on each page.
Character Articles
Bully Fanon Wiki News
Need help starting up on Bully Fanon Wiki? Use this!
A happy summer to all of our users!
The Bully Fanon Writing Club has been moved to the Bully Fanon Wiki Writing Center in order to make the program seem less like an exclusive club that's being run by one person, and more like an open forum for users to discuss their work on.
Duncan

Duncan is a townie with a brown fauxhawk and brown eyes. He wears a white sleeveless shirt and blue jeans, along with 'gauntlets' on his wrists that he claims make him look like a barbarian. He's into extreme biking and is also implied to use drugs recreationally...
More
About Bully Fanon Wiki
Bully Fanon Wiki was started in April 2009.
It was resurrected and adopted by SodaCat in October of 2010.
Rules and Policies
Bully Fanon Wiki Staff
Noticeboard
Links
Community content is available under
CC-BY-SA
unless otherwise noted.